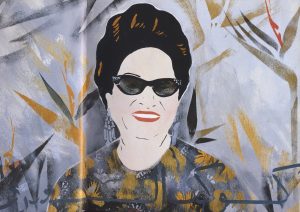 The reception accorded the death of Umm Kulthum showed how powerful and beloved the Egyptian vocalist had become. With the streets of Cairo lined by several million mourners, Kulthum's fans took her body from the shoulders of of the official pallbearers and passed her from person to person for the three-hour-long journey to the mosque of al-Sayyid Husayn. This sign of affection and respect was the culmination of a career that had begun nearly six decades before. In an article for Harvard Magazine, Virginia Danielson, author of The Voice of Egypt: Umm Kulthum, Arabic Song and Egyptian Society in the Twentieth Century, wrote, 'Imagine a singer with the virtuosity of Joan Sutherland or Ella Fitzgerald, the public persona of Eleanor Roosevelt and the audience of Elvis and you have Umm Kulthum, the most accomplished singer of her century in the Arab world.'

— Craig Harris, AllMusic.com
Al-Bustan Seeds of Culture is, as the organization's mission statement declares, "dedicated to presenting and teaching Arab culture through the arts and language." As part of their educational work, they've created a wonderful website about Umm Kulthum.
Here is a brief biographical video about her life:
And here she is in performance:
Finally, here is a scene from the film Looking for Oum Kulthum (you'll discover that their are many different spellings of her name in its transliteration from Arabic to the Latin alphabet):
This new film, directed by Shirin Neshat, is "a film within a film [about] the plight of an Iranian woman artist/filmmaker living in exile, as she embarks on capturing the life and art of the legendary female singer of the Arab world, Oum Kulthum. Through her difficult journey, not unlike her heroine's, she has to face the struggles, sacrifices and the price that a woman has to pay if she dares to cross the lines of a conservative male dominated society." (IMDB)